I thought it was about time I shared some recent books I've read. I was totally in a reading slump in addition to this blogging slump of mine, but thanks to a cross country flight to Las Vegas, I had several hours to get in some quality book time and get me back on track.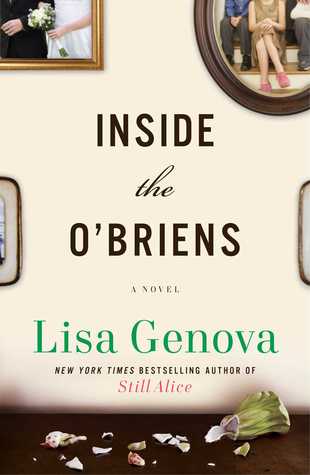 The book Inside the O'Briens by Lisa Genova (who also wrote Still Alice) was a heartbreaking but very well developed story of a family impacted by Huntington's Disease. I'd definitely recommend it but I'd follow it up with something light.
From Goodreads: Joe O'Brien is a forty-four-year-old police officer from the Irish Catholic neighborhood of Charlestown, Massachusetts. A devoted husband, proud father of four children in their twenties, and respected officer, Joe begins experiencing bouts of disorganized thinking, uncharacteristic temper outbursts, and strange, involuntary movements. He initially attributes these episodes to the stress of his job, but as these symptoms worsen, he agrees to see a neurologist and is handed a diagnosis that will change his and his family's lives forever: Huntington's Disease.
Huntington's is a lethal neurodegenerative disease with no treatment and no cure. Each of Joe's four children has a 50 percent chance of inheriting their father's disease, and a simple blood test can reveal their genetic fate. While watching her potential future in her father's escalating symptoms, twenty-one-year-old daughter Katie struggles with the questions this test imposes on her young adult life. Does she want to know? What if she's gene positive? Can she live with the constant anxiety of not knowing?
As Joe's symptoms worsen and he's eventually stripped of his badge and more, Joe struggles to maintain hope and a sense of purpose, while Katie and her siblings must find the courage to either live a life "at risk" or learn their fate.
I was iffy when reading the book Hausfrau by Jill Essbaum. It's about an American living in Switzerland and the emotional struggles she faces which lead to affairs that ultimately cause even more struggle. I can't say this is one I would recommend but I didn't regret reading.
From Goodreads: Anna Benz, an American in her late thirties, lives with her Swiss husband Bruno and their three young children in a postcard-perfect suburb of Zürich. Though she leads a comfortable, well-appointed life, Anna is falling apart inside. Adrift and increasingly unable to connect with the emotionally unavailable Bruno or even with her own thoughts and feelings, Anna tries to rouse herself with new experiences: German language classes, Jungian analysis, and a series of sexual affairs she enters into with an ease that surprises even her. Tensions escalate, and her lies start to spin out of control. Having crossed a moral threshold, Anna will discover where a woman goes when there's no going back.
Single, Carefree, Mellow by Katherine Heiny was a book I had to put down in the middle of reading. It's a series of short series that seemed to glamorize adultery and cheating. I thought it was well-written but I couldn't appreciate the messaging enough to continue reading.
From Goodreads: Maya is in love with both her boyfriend and her boss. Sadie's lover calls her as he drives to meet his wife at marriage counseling. Gwen pines for her roommate, a man who will hold her hand but then tells her that her palm is sweaty. And Sasha agrees to have a drink with her married lover's wife and then immediately regrets it. These are the women of Single, Carefree, Mellow, and in these eleven sublime stories they are grappling with unwelcome houseguests, disastrous birthday parties, needy but loyal friends, and all manner of love, secrets, and betrayal.
In "Cranberry Relish" Josie's ex—a man she met on Facebook—has a new girlfriend he found on Twitter. In "Blue Heron Bridge" Nina is more worried that the Presbyterian minister living in her garage will hear her kids swearing than about his finding out that she's sleeping with her running partner. And in "The Rhett Butlers" a teenager loses her virginity to her history teacher and then outgrows him.
In snappy, glittering prose that is both utterly hilarious and achingly poignant, Katherine Heiny chronicles the ways in which we are unfaithful to each other, both willfully and unwittingly. Maya, who appears in the title story and again in various states of love, forms the spine of this linked collection, and shows us through her moments of pleasure, loss, deceit, and kindness just how fickle the human heart can be.
Oh, and Vegas was amazing. I saw the Michael Jackson Cirque show One and spent plenty of time walking along the strip. This was the view from the room at the Cosmopolitan. I've also gone to a couple Red Sox games, hit up some baby and bridal showers, had a visitor in town and spent a weekend brewery hopping in Portland, Maine.
What have you been reading? I definitely need some ideas!